Post by coinguy on Jul 28, 2016 5:48:24 GMT -5
Hello again from the tail end of a nice warm July. Personally, I like the heat. Bring it on! I haven't been able to get out much this past month, but the few times I did, I was rewarded well for my efforts.
This is how far I've gotten along on my building. I see the progress as snail-like but I am working alone for the most part, and I need to take time out once in a while to make some money.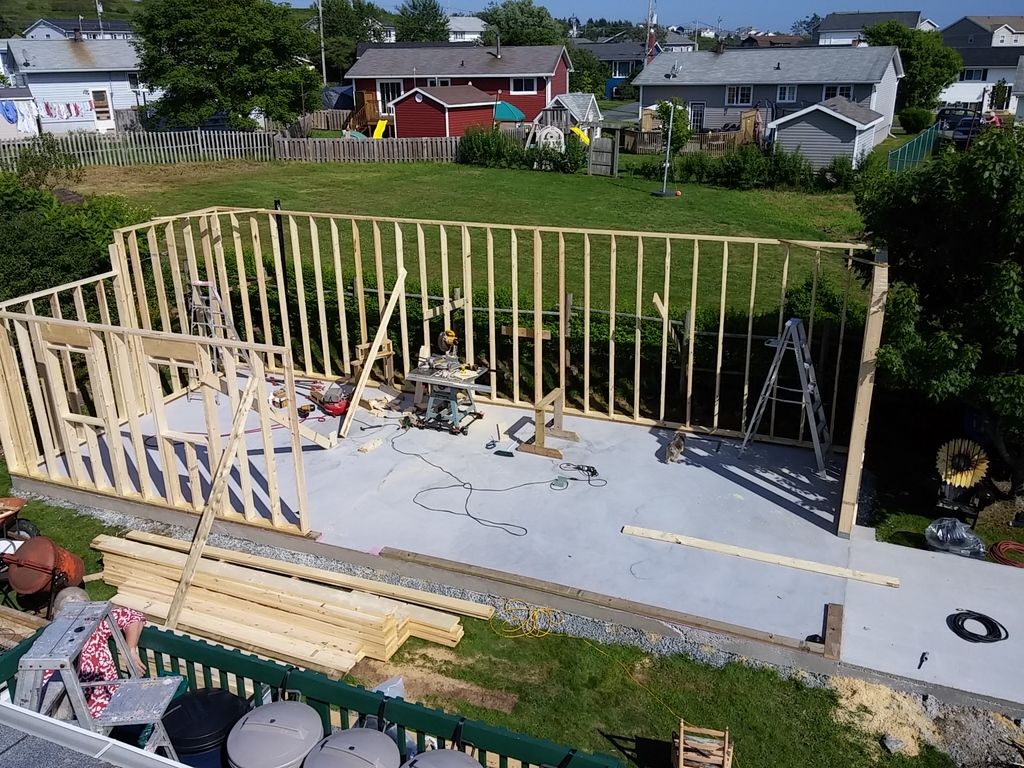 Here's a picture of some of the better finds. I was fortunate to find 7 silver coins, three of which are fishscales (1882, 1901 & 1918) and four dimes (1928, 1942, 1942 & 1960). One Ukrainian coin, two British large cents (one from 1860), a coin from the Ottoman Empire and various and sundry other large coppers.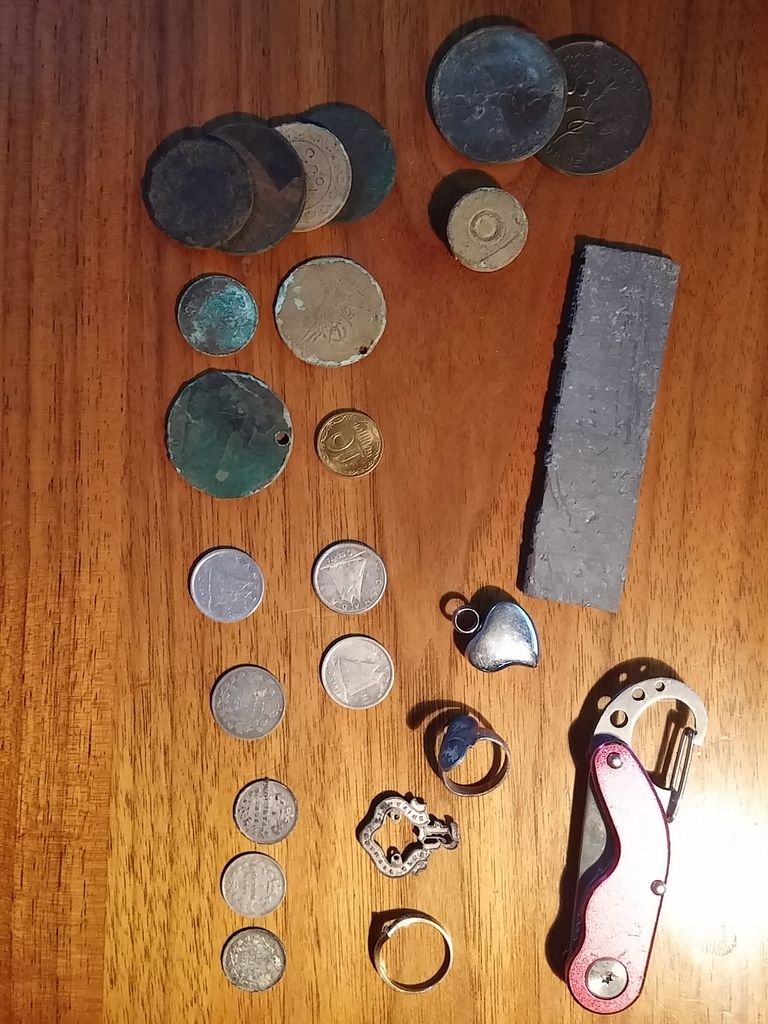 I couldn't get this picture to rotate so you'll have to put up with it the way it is.
.
In my opinion, the most interesting thing I found was this little silver pin. It's missing the center piece but that makes no difference to me. It took a few hours on the interweeb to track down what it was, but here goes.
It's from the Britannia Football Club of Montreal, which only existed from 1883 - 1896 and again from 1899 - 1903. The pin was made by The R. Hemsley Jewelry Company of Montreal, which was established in 1870. I could find no pictures of any kind of either the club, the team or any sort of logo/crest. I was only able to find brief mentioning of it in historical writings about early football clubs of Canada.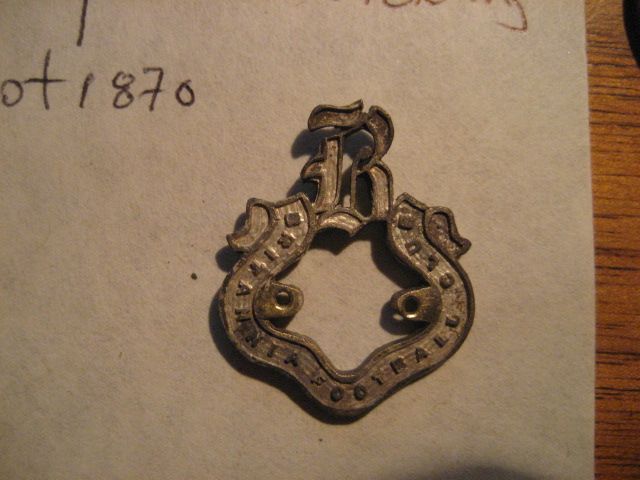 .
I also found a couple nice rings, one gold with a small diamond, and one stamped "Siam Sterling". The little heart shaped pendant threw me for a loop though. The top unscrews and the heart has a hollow spot inside. At first I thought it was for cocaine, but it's far too small to be for that. After some digging around on Google Images, I determined that it's a small urn. You can carry your loved one's ashes around with you. Kinda creepy. It's empty now.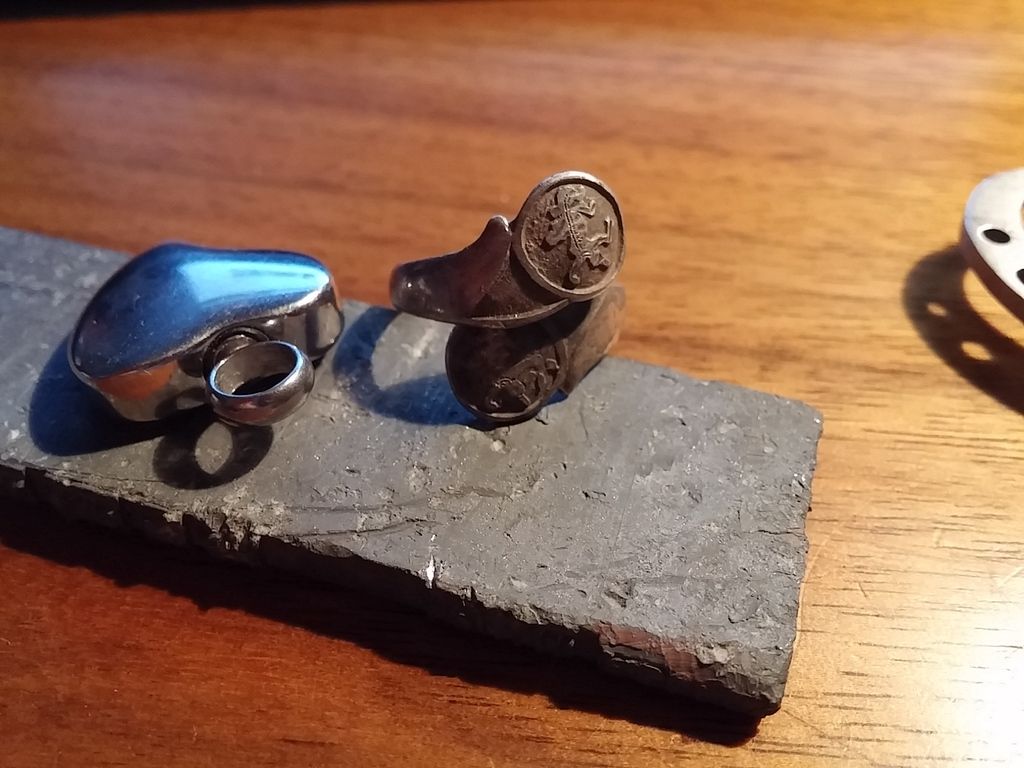 .
Hope you all get out and do some digging. Remember to check for ticks. No joke! the little bastards can make you die a slow painful death.
Good luck and Happy Hunting.
jr