Post by on Nov 19, 2009 19:01:11 GMT -5
From the land of the Bluenose.....rather then post each hunt from the past few days individually I have done this one post. Getting over the flu so barely had the energy to dig rather alone write my posts so sit back and enjoy some great finds with some good bouys!
Lone Amigo in a Geese Minefield
(hunt #1)
Couldn't stand it! A super day out and I was home out of action suffering from the flu and operating at about 40% with the other 60% made up by trips to the bathroom and trips to the fridge for ice water.
That was it! So I grabbed the detector, a roll of Royal and headed to a private park hoping to last at least a half hour and get some fresh air. Well me son I was greeted by a "school" of crows in the tree squawking and talking up a storm....no peace here then I made my way to the water front and was greeted by a chemical mine field laid out by Canada Geese. Lord love a duck they would put any dog to shame for doing the "dew." Anyway I navigated through their trap and picked up some coinage and a few biological agents that I decontaminated in the lake. Feeling as green as their mines I headed home after only 55 minutes with two captured dinkies and 40 coins @ $ 4.35.
Two Amigos do Spanish Silver, Colonial Token and Crotter Bell (hunt #2)
Navy Davy picked me up and we headed to Rotten Ronnies and scoffed 4 breakfast sausage sandwiches and 2 large coffees and too boot for under $5 so I gave the great looking lady at the golden arch a $2 tip and told her I hadn't made the bed nor done the other domestics that she had requested when she left for work. Is there something lower than being in the dog house? Find out when I get home.
Anyway we motored down the south shore to our island haunt and did the dew with Navy Davy unearthing a first for him that really rang his bell...crotter bell that is and a nice one at that.
Was a great day with little wind , sunshine galore and for November a bonus digging day that we took full advantage of popping coins here and there til near dark and headed slowly back to the car swinging as we went. Near the well (those that I have taken there know where I mean) got a super bell tone from the old Garrett and out popped this puppy! Made this bouys day big time.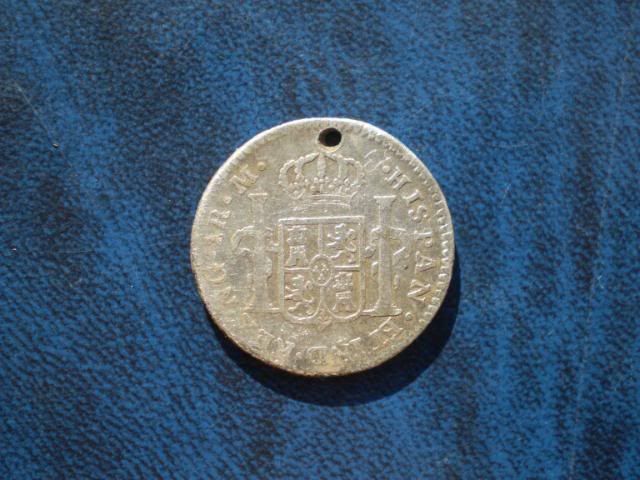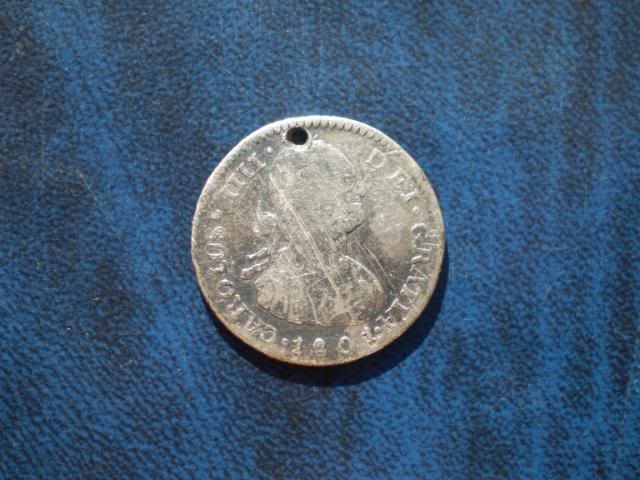 Did the Joy Jig and we continued towards the parking lot with the sun slowly dipping painting the sky in a vivid kaleidoscope of colour. Navy Davy struck a few more clad coins and I a toasty large cent (year unknown) and an equally toasty Nova Scotian penny token (1840) that I managed to see the date and part of the thistle. Ground is cruel to copper in this province.
ND managed about 30 coins and had a good day.
As for the bouy who was now operating at about 70% the finds included two toasties, Brownie badge, football dewy, the 1801 Spanish and 80 coins @ $3.50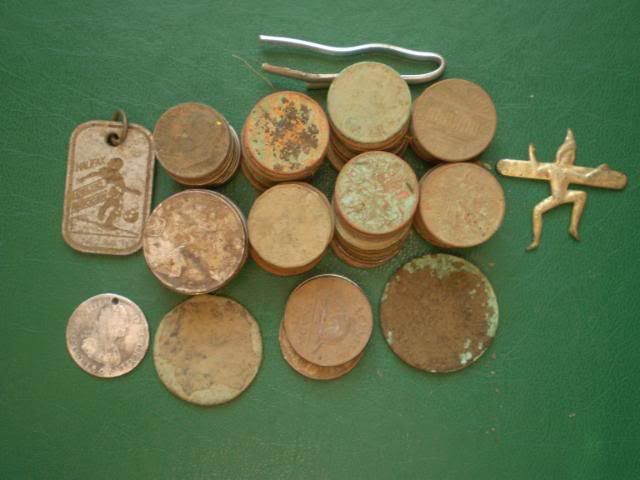 Three Amigos Find Devine Silver
(hunt #3)
Feeling 80% normal which is what this bouy maxis out at Navy Davy and I headed to the valley to meet with Slickpick Rick where I was welcomed by a hairy rear and a tongue in my ear from one of his two mobile munure makers. Man that dog can wag his tail and almost seemed to smile as I rubbed his backside near it's tail.
Gathering SPR up in Mrs. Navy Davy's automobile we headed to a local playing field and netted a few kids rings, pennies and an elusive golf egg in the field that had about a 1/4 inch of frost on top.
Tiring of this we moved on after a Tim Run to put a little heat on the inside and landed at another field that didn't pan out at all so off to another spot that had a huge playing field and a small tot lot that we converged on like seal inside a gill net full of cod.
Mister Man this spot was penny heaven so when I found a circa 1840 Prince Edward Island "Success to the Fisheries/Speed the Plough Token" our near dead desire to pop more pennies was renewed....at least for the next 20 minutes then it was time to move again and that we did to another playing field unbeknowst to us that "Devine Bling" was waiting for us!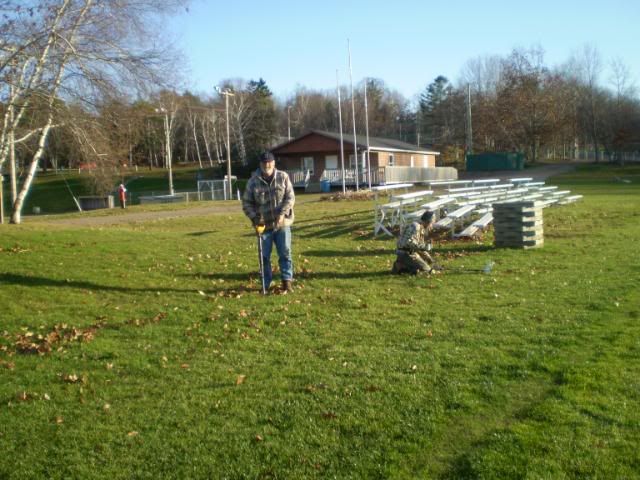 So the three of us spread out with Navy Davy wandering the fields, Slickpick Rick staying in the tot lot and I hitting the seats along the field with all of us finding a few coins here and there. Got an iffy bell tone as I always run the old thing on max depth and no discrimination and knelt down and much to my surprise.."I was in the Big Guy's Good Grace"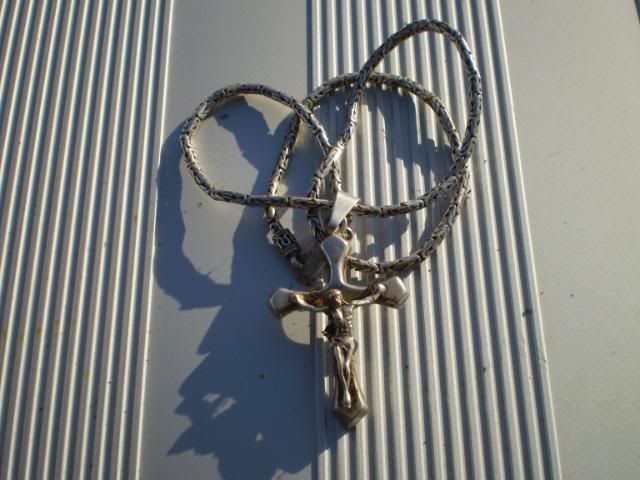 Man I was in heaven with this heavy piece of silver. Bouys all had a gander and we continued swinging filling our pockets with this and that.
Tired and with a long drive ahead of us we returned to the vehicle and counted the loot but not before Slickpick Rick emptied his garbage in the right place.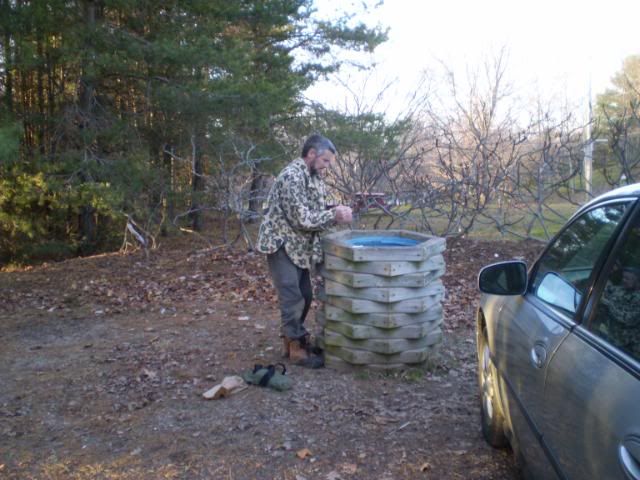 Bouys a checking out the finds.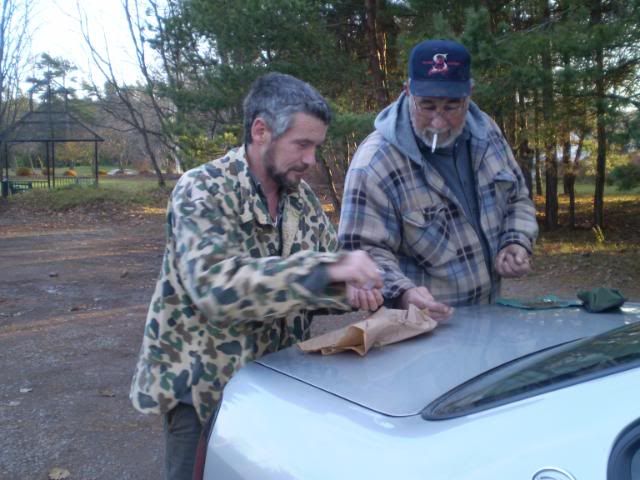 Slickpick Rick found 110 coins @ $9.15.
Navy Davy a pair of kids rings, dog tag and 78 coins.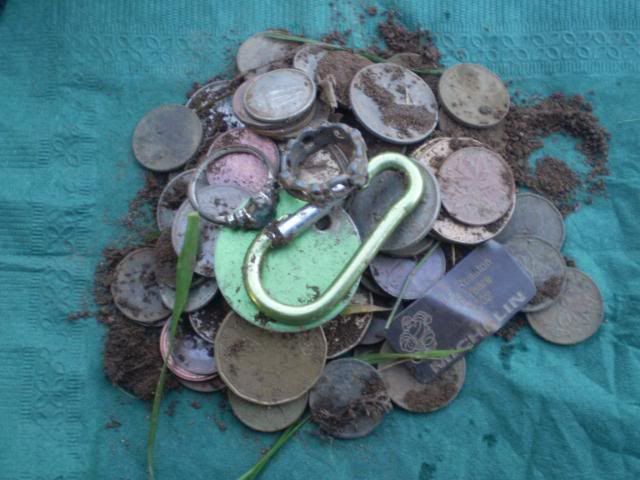 And I 2 kids rings, the letter "D",zipper tag, the silver chain and cross and 186 coins @ $8.50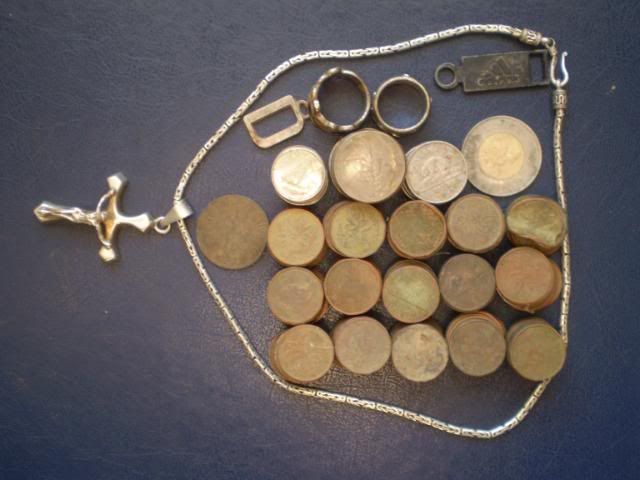 Of course the day was marred by me losing my keys so we back tracked to every spot in the near dark to no avail. Once home...Marie handed them to me as the super of the building had found them on the steps............dropped off the bouy a gift card to Tim's.............end of a perfect day!